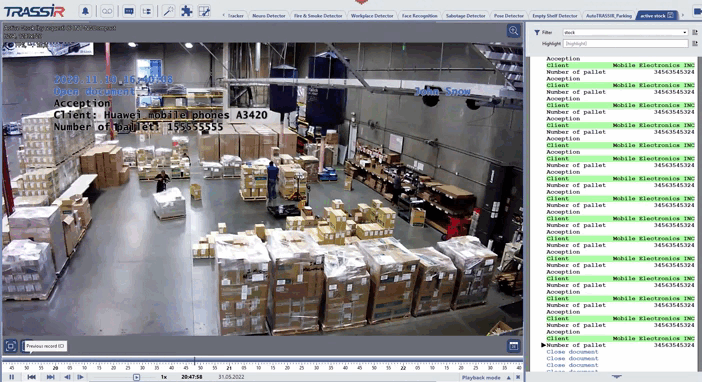 Overview
The TRASSIR ActiveStock
smart module is a professional software for event-based video surveillance of warehouse operations.
ActiveStock enables quickly investigating incidents of loss, disputes during shipment, acceptance and movement of products, determining who is responsible for the availability of goods and investigating cases of damage or loss in the warehouse.
Work is carried out both online and offline.
The cost of the TRASSIR ActiveStock licence includes connection to a central warehouse server and one event-associated video camera. Connection of additional cameras requires buying the TRASSIR ActiveStock Cam for each additional device.
Enables marketplaces to track all warehouse operations with goods from acceptance from the supplier to delivery to the client at order pick-up points or monitor the work of the picker in the dark store.
Key features:
Quick and easy search by events, product or employee
Single interface for handling video and warehouse operations from WMS
Video categorisation according to warehouse operation scenarios
Easy integration with WMS via API
Online viewing and archive search
One or more cameras to be used for a facility or surveillance area
Basic goals:
Reducing unidentified losses
Building an evidence base when staff (/tellers) are found at fault
Speeding up incident investigation severalfold
Optimising the hours paid for warehouse/distribution centre staff (fewer operators are able to handle more incidents)
Monitoring worker