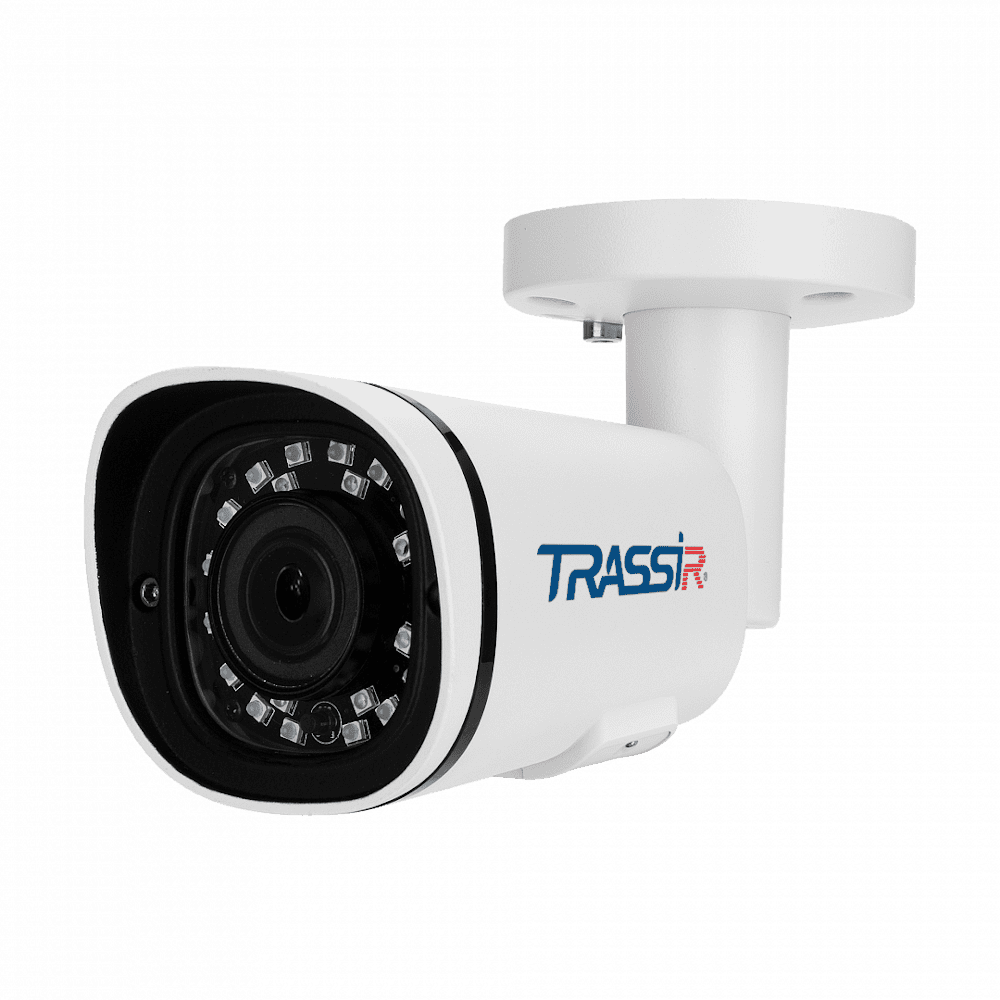 Technical specifications
Audio:
Built-in microphone
Audio-in
Audio-out

Maximum video output resolution:
1920x1080
Image sensor:
1/2.8" CMOS
Local storage:
microSD up to 128 GB
Lightning protection:
TVS 4000V
Dimensions (mm):
184.67x66.50x63.05
Power consumption, Watt:
5
Working temperature, C°:
-40°C ... +60°C
Day/Night Mode:
Mechanic IR-filter
Video compression:
Н.265 / H.264
Overview
2 MP (1920×1080) TRASSIR TR-D2221WDIR4 v2 3.6 IP camera is adapted for outdoor use regardless of the season: body protection against moisture and dust - IP67, operating temperatures from -40 °C ... +60 °C, lightning protection - TVS 4000V.

Functionality


Detect motion, people, line crossing, zone intrusion, loitering, traffic, people counting.
WDR 120 dB - Reduces the effect of different contrast lighting on image quality.
3D DNR - spatial noise reduction.
Corridor mode - shooting in vertically oriented resolution.
Defog - increase the contrast to eliminate the effect introduced by fog, smoke.
BLC - backlight compensation.
IR illumination with a range of 40 m.
Compression H.265+, H.265, H.264.
The broadcast speed and resolution of the main stream is 25 fps 1920×1080, 1280×960, 1280×720, the secondary stream is 25 fps 704×576, 640×480, 640×360, 352×288.

Basics

TR-D2221WDIR4 v2 3.6 is built on a 1/2.8-inch CMOS sensor with 0.005 lux sensitivity. Supports day / night mode with ICR: in sufficient light, the filter blocks IR rays, optimizing color reproduction, and in the dark it is mechanically shifted away from the sensor to increase its sensitivity. Bitrate - 8 Mbps. Equipped with a fixed lens (focal length - 1.9 mm, horizontal viewing angle - 118°, vertical - 62°, aperture - F / 1.8), RJ-45 network port, integrated microphone, slot for microSD up to 128 GB. Power supply - DC 12 V, PoE. The maximum power consumption is 5.8 W. Size - 184.67 × 66.50 × 63.05 mm. Weight - 460 g.