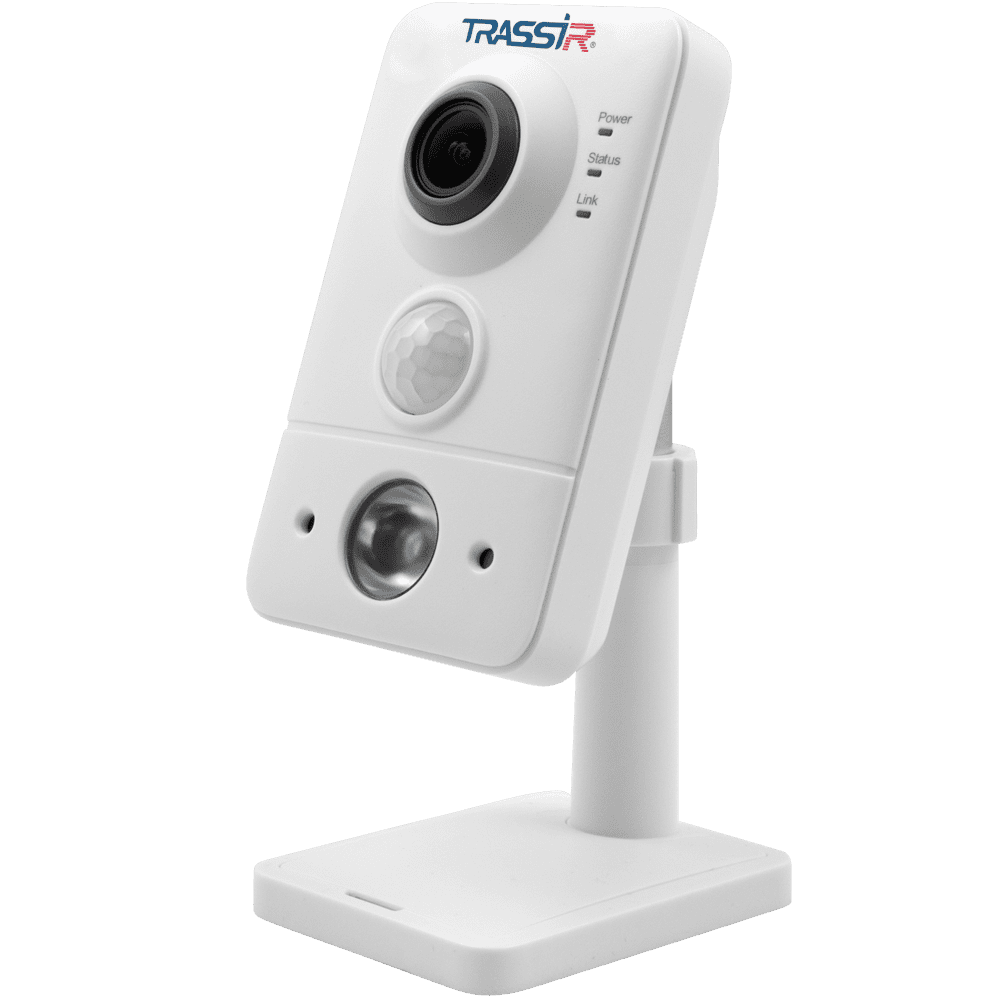 Technical specifications
Audio:
Built-in microphone
Built-in speaker

Maximum video output resolution:
1920x1080
Image sensor:
1/2.7" CMOS
Power supply:
DC 12 V, PoE
Dimensions (mm):
60x99x32.8
Power consumption, Watt:
3.8
Working temperature, C°:
-10…+50
Day/Night Mode:
Mechanic IR-filter
Network interfaces:
RJ-45
Overview
TRASSIR TR-D7121IR1

The 2MP (1920 × 1080) v6 (3.6mm) IP camera is designed for indoor use. Equipped with a PIR sensor for detecting movement based on temperature changes. Suitable for night video surveillance - equipped with IR illumination with a range of 10 m. Equipped with a microphone and speaker. On board a complex of analytical functions - motion detection, people detection, detection of crossing a virtual line and intrusion into the zone.


Functionality:


- WDR 120 dB - neutralizes the effect of different contrast lighting on image quality.
- 3D DNR - Noise Reduction.
- Support for vertical resolution with an aspect ratio of 9:16.
- Defog (anti-fog) - increase the contrast to eliminate the effect introduced by fog, smoke.
- BLC - Backlight Compensation.
- Day / night mode with ICR, with sufficient illumination refracting IR rays, and without illumination shifting to the side to increase the sensitivity of the matrix and the backlight.
- Compression with H.264, H.264 +, H.265, H.265 + codecs.
- Broadcast speed - 25 frames per second.


Basics:

TR-D7121IR1 v6 (3.6 mm) is equipped with a 3.6 mm fixed focal length lens, 82 ° horizontal field of view, 44 ° vertical field, F / 1.8 aperture. Equipped with an RJ-45 network port, a microSD slot with a capacity of up to 128 MB, a power connector. Power supply - 12V DC or PoE. The maximum power consumption is 2 W. Dimensions - 60.0 × 99.0 × 32.8 mm. Weight - 95 g.