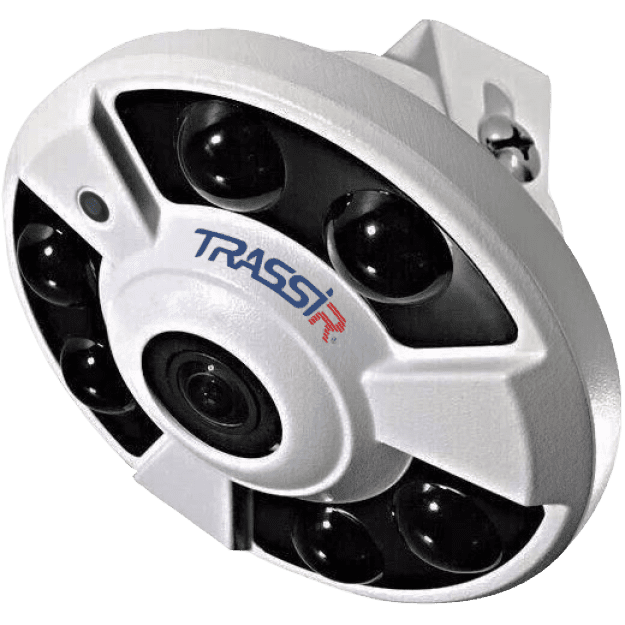 Technical specifications
Maximum video output resolution:
2560x1920
Image sensor:
1/2.8" CMOS
Local storage:
microSD up to 128 GB
Lightning protection:
TVS 4000V
Dimensions (mm):
Ø120 x 58
Power consumption, Watt:
6.6
Working temperature, C°:
-30°C ... +60°C
Day/Night Mode:
Mechanic IR-filter
Video compression:
Н.265+ / Н.265 / H.264
Overview
5 MP (2560 × 1920) TRASSIR TR-D9151IR2 v2 1.4 IP camera is adapted for year-round outdoor operation: body protection against moisture and dust - IP65, operating temperatures from -30 °C ... +60 °C, lightning protection - TVS 4000 V.

Functionality


WDR 120 dB - Reduces the effect of different contrast lighting on image quality.
3D DNR - noise reduction.
Corridor mode - vertically oriented resolution to reduce the blind zone.
Defog - increase the contrast to eliminate the effect introduced by fog, smoke.
BLC - digital backlight correction to enhance the visibility of shadowed objects.
IR illumination with a range of 25 m.
Compression H.265+, H.265, H.264.

Basics

TR-D9151IR2 v2 1.4 is based on a 1/2.8 inch CMOS sensor with 0.003 lux sensitivity. Supports day / night mode with ICR: in sufficient light, the filter blocks IR rays, optimizing color reproduction, and in the dark it is mechanically shifted away from the sensor to increase its sensitivity. Streams at 25 frames per second. Bitrate - 8 Mbps. Equipped with fisheye lens (1.4mm focal length, 180° field of view, F/1.8 aperture), RJ-45 network port, integrated microphone, audio in, audio out, alarm in, alarm out, microSD slot up to 128 GB . Power supply - DC 12 V, PoE. The maximum power consumption is 7.2 W. Size — Ø120×58 mm. Weight - 380 g.