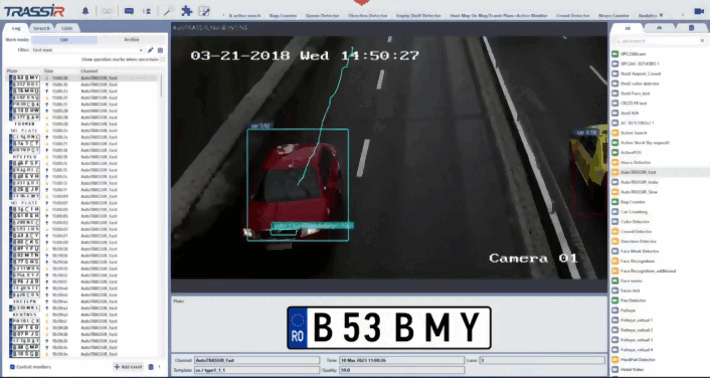 Overview
AutoTRASSIR

An intelligent module for recognizing car license plates provides automatic identification of license plates on vehicles that come into a video camera's field of view. The automatic license plate recognition system allows you to track the passage of any vehicle of interest from the archive in screenshots and video fragments.

Maintenance support, detailed reports, hierarchical logging of recognized autonomous groups, and integration with speed measuring devices and security complexes, including access control and fire alarm equipment (barriers). In automatic mode, the module detects vehicles that are stolen or violate parking rules.

Functionality:


Highly accurate recognition of license plates;

Recognition of any license plates or vehicles;
Recognition of license plates on cars from other countries.

Recognition from complex angles.
No problems admitting cars onto the territory.

Flexible configuration of the recognition module.
Delegation of computing to a server with GPU from low-power DVRs.


The new version of AutoTRASSIR 5 is compatible with the TRASSIR NeuroStation and QuattroStation series recorders. These servers use hardware graphics accelerators to achieve high efficiency when processing large video streams. The module uses off-load technology to remotely process video on any TRASSIR video recorders; connect them to TRASSIR NeuroStation servers over the network or through the cloud