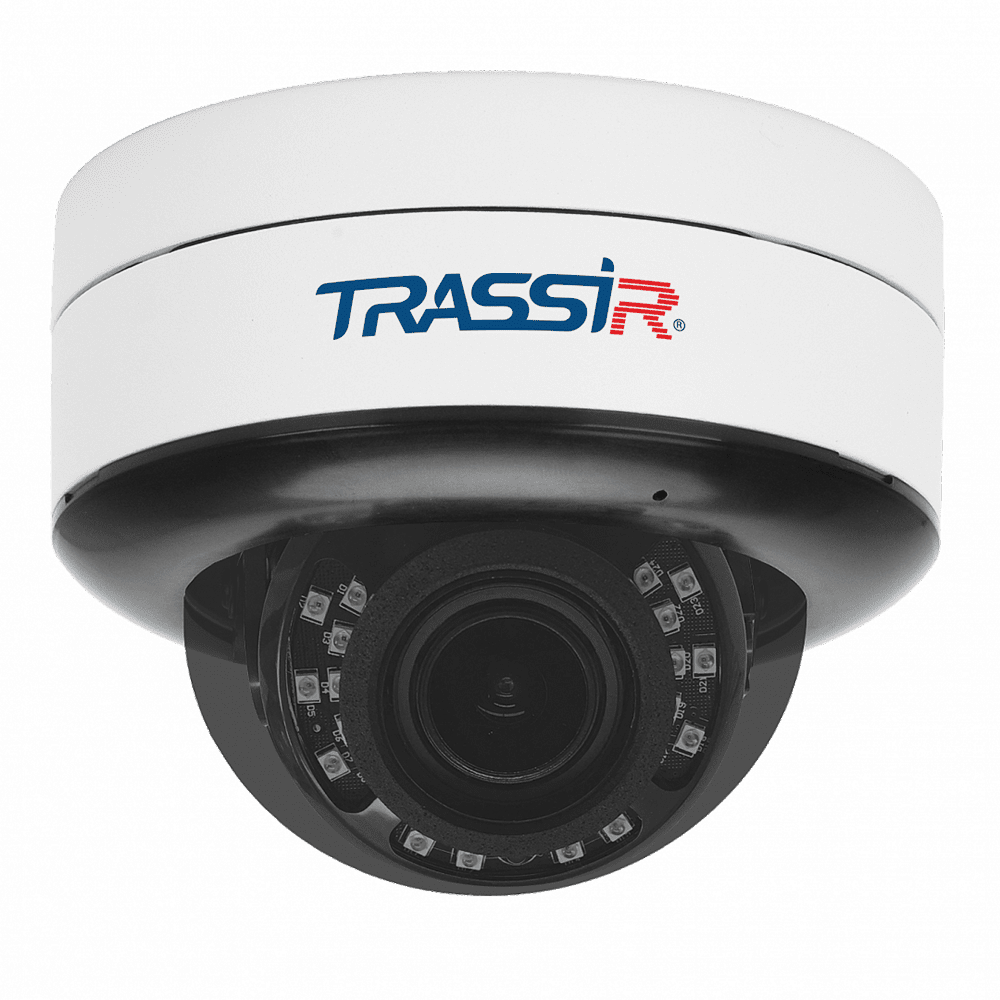 Technical specifications
Audio:
Built-in microphone
Audio-in
Audio-out

Maximum video output resolution:
2592x1920
Image sensor:
1/2.8" CMOS
Power supply:
DC 12 V, PoE
Dimensions (mm):
Ø116.1x90.9
Power consumption, Watt:
8.7
Working temperature, C°:
-40…+60
Day/Night Mode:
Mechanic IR-filter
Network interfaces:
Ethernet
Overview
TRASSIR TR-D3253WDZIR3
5 MP (2592 × 1944) IP-camera is designed for year-round and round-the-clock outdoor operation: shock-resistant (IK10) metal case is protected from moisture and dust according to IP66 standard, operating temperature range is extended to –40 ° C ... +60 ° C, lightning protection TVS 4000 is provided, the range of the integrated IR illumination is 30 m.
Functionality:
- Software detection of movement and people.
- Counting people.
- Control of the area.
- Detection of crossing the virtual line.
- Loitering detection.
- WDR 120 dB - neutralization of the influence of changes in the level of illumination on the picture quality.
- 3D DNR - spatial noise reduction.
- Defog - increasing the contrast to eliminate defects introduced by fog, smoke.
- ROI - fixing on a selected area with a parallel reduction in resolution in the rest of the frame to optimize the bitrate.
- BLC - Backlight Compensation.
- HLC - local exposure masking.
- Built-in microphone.
Basics:
TRASSIR TR-D3253WDZIR3 supports corridor mode (vertical resolution) and day / night with ICR: in sufficient light, the filter refracts IR rays, optimizing color rendition, and in the dark it is mechanically shifted away from the matrix to increase its sensitivity and backlight efficiency. Compresses the stream with H.265 +, H.265 and H.264 codecs and broadcasts at 20 fps (5 Mp) or 25 fps (4 Mp or less). Bitrate - 8 Mbps.
The onboard interfaces include RJ-45 network port, audio input, audio output, alarm input, alarm output, microSD card slot with a capacity of up to 128 MB. Power supply - DC 12 V, PoE. The maximum power consumption is 8.7 watts. Dimensions - Ø116.10 × 96.51 mm. Weight - 450 g.