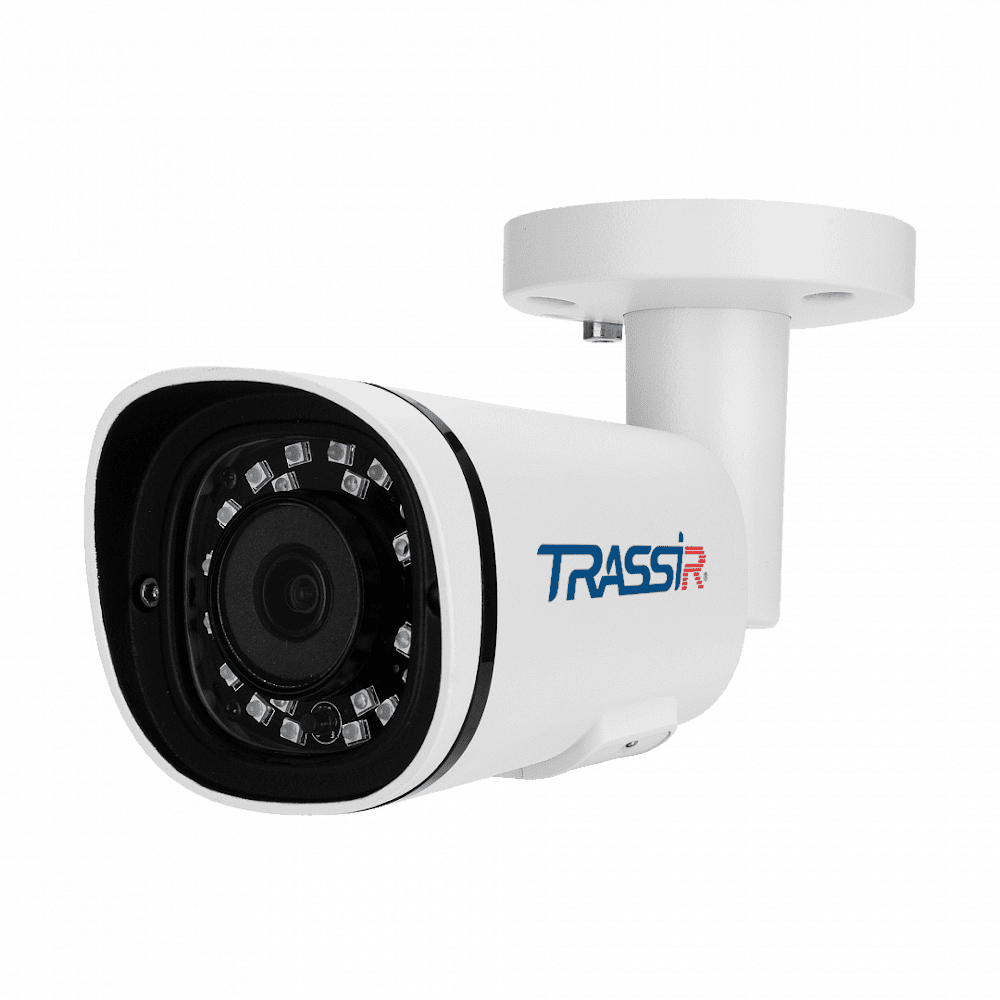 Technical specifications
Audio:
Built-in microphone
Audio-in
Audio-out

Maximum video output resolution:
2592x1920
Local storage:
microSD up to 128 GB
Lightning protection:
TVS 4000V
Dimensions (mm):
184.67x66.50x63.05
Power consumption, Watt:
5.1
Working temperature, C°:
-40°C ... +60°C
Day/Night Mode:
Mechanic IR-filter
Video compression:
Н.265+ / Н.265 / H.264+ / H.264
Overview
5 MP (2592×1920) TRASSIR TR-D2251WDIR4 v2 2.8 IP camera is designed for year-round outdoor operation: the metal case is protected from moisture and dust according to the IP67 standard, operating temperatures from -40 °C ... +60 °C, lightning protection - TVS 4000 v.

Functionality


Motion detection, faces (optional), cars.
People counting.
Detection of virtual line crossing, area intrusion, area exit, loitering.
WDR 120 dB - Reduces the effect of different contrast lighting on image quality.
3D DNR - spatial noise reduction.
Corridor mode - hardware support for vertical resolution.
Defog - increase the contrast to eliminate the effect introduced by fog, smoke.
BLC - backlight compensation.
IR illumination with a range of 40 m.
Compression H.265+, H.265, H.264+, H.264.

Basics

TR-D2251WDIR4 v2 2.8 is built on a highly sensitive (0.003 lx) 1/2.8-inch Sony Starvis sensor, which forms color video even in low light: the camera does not switch to black and white shooting longer. Equipped with 1.9mm fixed lens, 104° horizontal, 75° vertical, F/1.8 aperture, RJ-45 network port, audio-in, audio-out and integrated microphone, alarm-in and alarm-out, microSD slot up to 128 MB. Supports day / night mode with ICR: when there is enough light, the filter blocks IR rays, optimizing color reproduction, and in the dark it is mechanically shifted away from the sensor so that its sensitivity is increased and the backlight can work. Streams at 25 frames per second. Bitrate - 8 Mbps. Power Supply – 12V DC or PoE. The maximum power consumption is 6.5 W. Size - 184.67 × 66.50 × 63.05 mm. Weight - 460 g.