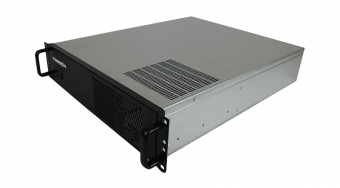 TRASSIR NeuroStation 8864R/64
Technical Specifications
Number of HDD:
8 HDD 3.5"
Resolution of cameras (max):
No limits
Video output:
D-SUB (VGA), DisplayPort, DVI-D
Dimensions (mm):
485x90x555
Power consumption, Watt:
500
Working temperature, C°:
+10...+30
Network interfaces:
Ethernet
Video compression:
H.265+ | H.265 | H.264+ | H.264 | MJPEG
Overview
TRASSIR NeuroStation 8864R/64

The recorder is designed for 64 IP cameras (64 AnyIP licenses included). Equipped with DVI-D, DisplayPort and D-SUB (VGA) video outputs, two RJ-45 (2 Ethernet 10/100/1000 Mbps), SATA for eight hard drives, two USB 2.0 on the front panel, five USB 3.0, one Rear USB 3.1, PS / 2, audio in and audio out. Supports H.265, H.265 +, H.264, MPEG4, MJPEG codecs. Comes with a preinstalled TRASSIR OS operating system with a set of basic functions. Recording resolution - unlimited. Output Resolution: FullHD on D-SUB (VGA) and DVI-D, 4K on DisplayPort.

Equipment:


Video recorder (assembled and packaged)

Mouse (USB)
Keyboard
Telescopic guides
Power cable
SATA cable
Technical certificate
Warranty card
User guide

Basics:

Power supply - 220 V, power - 500 W, size - 485 × 555 × 90 mm, gross weight - 18.1 kg, rack height - 2 U. Operating temperatures - +10 ° C ... +30 ° C.