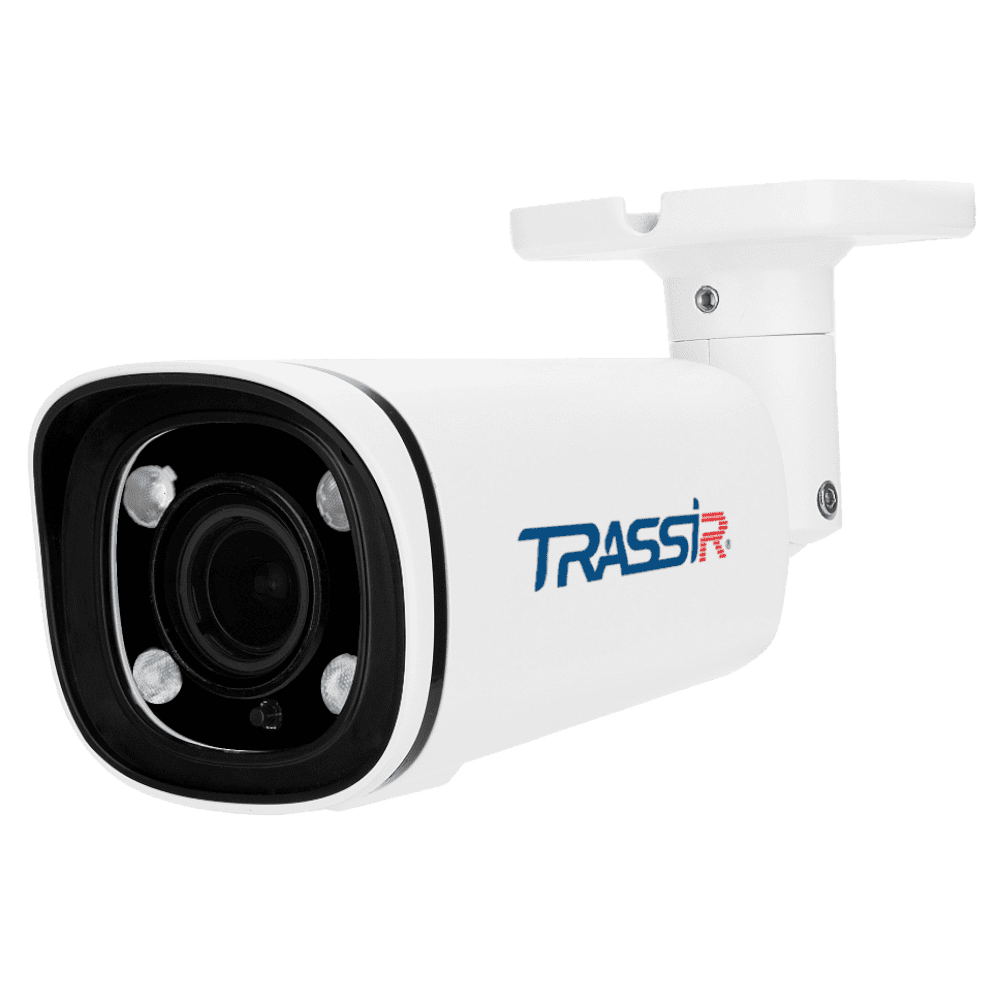 Technical specifications
Audio:
Built-in microphone
Audio-in
Audio-out

Maximum video output resolution:
1920x1080
Image sensor:
1/2.8" CMOS
Lens (mm):
5 - 50 (motorzoom)
Lightning protection:
TVS 4000V
Dimensions (mm):
233.4×77.5×80.0
Power consumption, Watt:
11
Working temperature, C°:
-40 °C… +60 °C
Day/Night Mode:
Mechanic IR-filter
Network interfaces:
RJ-45
Overview
TRASSIR TR-D2224WDZIR7

2 megapixel (1920 × 1080) IP-camera is supplied in a housing that meets the requirements of the standard for protection of the enclosure against dust and moisture IP67, against mechanical influences - IK08, which, together with an operating temperature range of -40 ° C ... +60 ° C and TVS 4000V lightning protection ensures stable operation of the device outdoors, regardless of the season. Equipped with a motorized lens 5 ~ 50 mm - for almost instant 10-fold increase of the desired fragment, IR illumination with a range of 70 m - for night video monitoring with control of a large area. Viewing angles: horizontal - 42.3 ° ~ 7.8 °, vertical - 23.7 ° ~ 4.5 °.
Functionality:
- WDR 120 dB - double scanning with different shutter speeds (within 120 dB) and subsequent convergence of two frames into one balanced in terms of brightness, to minimize the effect of changes in the level of illumination on the picture quality.
- 3D DNR - Noise Reduction.
- BLC - Back Light Compensation.
- HLC - local exposure masking.
- Defog - neutralization of blur introduced by fog, smoke, dusting of the scene by improving the contrast.


Basics:

TRASSIR TR-D2224WDZIR7 supports day / night with ICR, compresses video with H.265, H.265 + and H.264 codecs, broadcasts data at 25 fps simultaneously with two streams - to reduce the load on the network / server.

Interfaces: RJ-45 with PoE support, audio in / out and a built-in microphone, a connector for a power supply (not included), a slot for a microSD card with a capacity of up to 128 GB. Power supply - DC 12V / PoE. At peak loads, the camera draws a maximum of 11 watts. Dimensions - 233.4 × 77.5 × 80.0 mm, weight - 6350 g.