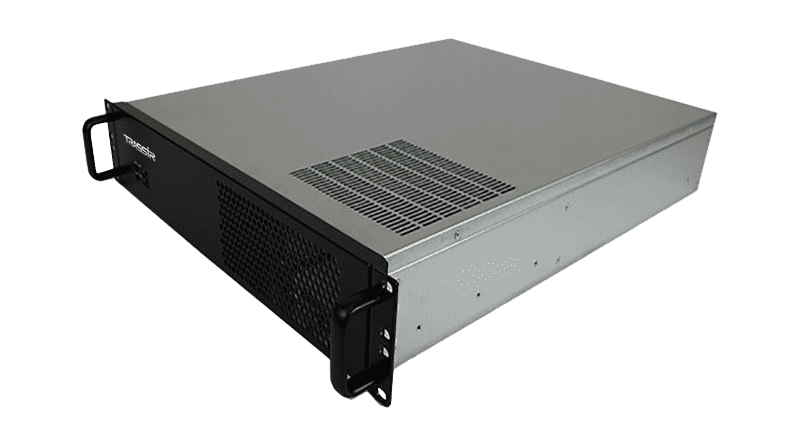 Technical specifications
Interfaces:
1 Ethernet 10/100/1000 Mbit/s
Working temperature, C°:
+10°C… +30 °C.
Overview
TRASSIR Client M4 / 64

Remote workstation (URM) running the TRASSIR OS client version. Designed for 64 IP channels, supports TRASSIR MultiStream and MultiStor II, remote module management, differentiation of access rights, network protocols TCP / IP, IPv4 / v6, UDP, DHCP, CloudConnect, DNS, NTP, SADP, SMTP, iSCSI, UPnP, HTTP / HTTPS, RTSP, ONVIF, video codecs Н.265 +, H.265, Н.264, MPEG4, MJPEG.

Interfaces:


Four mini DisplayPorts.
DisplayPort adapter.
Two Gigabit RJ-45 network ports.
Six USB 3.1.
Audio input (3.5 mm).
Audio out (3.5mm).
Power connector (AC 220 V).
Basics:
TRASSIR Client M4 / 64 has a single universal Linux-based TRASSIR OS interface with the ability to fully restore the system to the factory settings (TRASSIR Recovery) in case of emergency.

The maximum power is 500 watts. Operating temperatures - + 10 ° C ... +30 ° C. Dimensions - 430 × 380 × 88 mm, weight - 5.3 kg. Operating temperatures - +10 ° C ... +30 ° C.

The key task of the pre-installed professional TRASSIR software and software located on a separate Flash section is maximum security. TRASSIR software is one of the most functional solutions for video monitoring and data archiving, a highly effective tool for high-quality video analysis, in particular, thanks to the built-in technology of instant search in the archive ActiveSearch and Heat Maps (overlaying the color scale of activity in the frame on the video).